For 200 years, since 1815, agriculture has been a key part of our region's life and development.
The pursuit of excellence has always been a primary objective and the desire to create competitions and expositions to promote that objective have been evident in the region since the early 1850's.
The Bathurst A,H&P Assoc. and its forebears have been actively pursuing the development of our rural life and industry since 1858. Like rural life through history we have had our ups and downs. Despite this the BAH&PA through its governing body the Show Council remains committed to our objectives, traditions and the pursuit of excellence.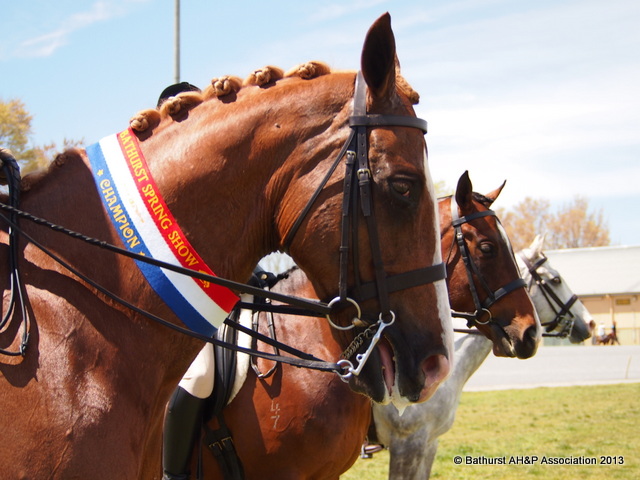 Autumn
2014 Member Newsletter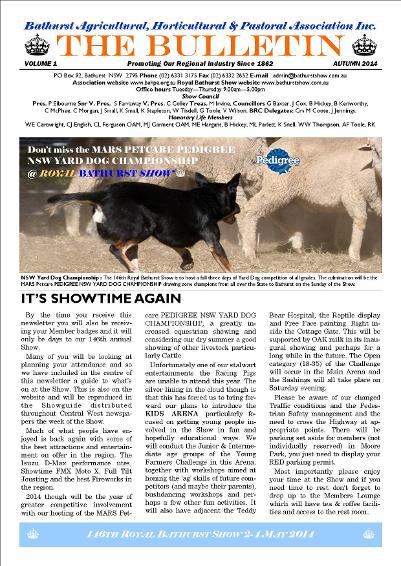 The 148th

Royal Bathurst Show
Well the 2015 Royal Bathurst Show was not quite as damp & cold as 2014 but the displays, competition and determined stoicism of our patrons and competitors was excellent.
Our attendance was up on 2014 but we still suffered with numbers still down from our 2011 - 2013 peaks. They are a stalwart bunch they did their best to brave some awful Show weather. Despite the storm on the Saturday night, the Band, Neilly Rich, literally played on regardless.
Planning for the 148th 2016 ROYAL BATHURST SHOW to be held from 8 - 10 April is well underway. Dressage classes will be conducted on Wednesday 6 April & the Pony Club & Local Horses Classes will be conducted on Thursday 7 April.
The 'Best show in the west' will be back stronger than ever.
Don't miss this fantastic exposition of agricultural excellence and highlighting the best within our region. It's a whole lot of fun and entertainment too.
It is never too late to get involved in the Show, either as a Sponsor, Exhibitor or Competitor.
TO FIND OUT MORE ABOUT THE SHOW CLICK HERE
Phone: 02 6331 3175
Fax: 02 6332 2652
Email: admin@bathurstshow.com.au